Viator Exclusive: Early Access to Tulum Ruins with an Archeologist
---
North America » Mexico » Quintana Roo » Cancun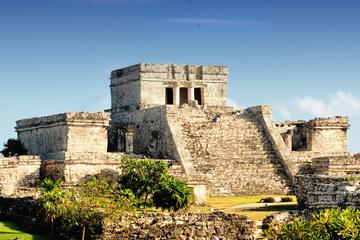 (5.0)
Duration: 8 hours
Departs: Cancun, Mexico
Price from USD 49.99
Book Now
Tour Tulum, one of the most famous Mayan sites, with a private archaeologist — a Viator exclusive available nowhere else! Arrive in the early morning and miss the crowds, allowing you to fully experience the magnificent Tulum ruins, built on a cliff above the Caribbean Sea. With pickup from Cancun and Riviera Maya hotels, you'll see places that traditional tours do not visit. Receive personalized attention from your professionally certified guide on this small-group tour, limited to 20 people.
Start your Viator Exclusive tour after early morning pickup from your Cancun or Riviera Maya hotel, stopping for snacks (own expense) along the way. Join your guide, a certified archaeologist, for an in-depth tour of Tulum — a walled Mayan city perched atop a cliff that overlooks the sparkling Caribbean Sea. You'll arrive at the site and take in this tranquility just in time to beat the crowds!
As you tour Tulum, a Mayan word for wall, your expert guide provides informative commentary. Learn about the archaeological studies of the site and the Mayan civilization that occupied it. Hear evidence that places Tulum as one of the major Mayan cities of the 13th and 14th centuries in Quintana Roo, highlighted by its strategic coastal location, its elevation — the highest of any city the region — and its efficient defense system.
As you stroll among the ruins of this important city, you'll discover what researchers have uncovered: a political settlement along a commercial route that exploited the rich marine resources off the coast. Today, Tulum is best known for its sandy beaches and the remnants of elaborate murals — once painted a vibrant red and blue over stark white walls.
Return to your hotel in the afternoon, enjoying a box lunch while in transit back to Cancun. With this Viator Exclusive, your early morning trip to Tulum lets you beat the crowds so you can enjoy the remainder of the afternoon at your own leisure!
Special Offer - Save 35% when you travel on Mondays and Wednesdays! See pricing options for full details. - Book Now!
« All Activities
Activities by Group: