Whale Shark Adventure Tour
---
North America » Mexico » Quintana Roo » Cancun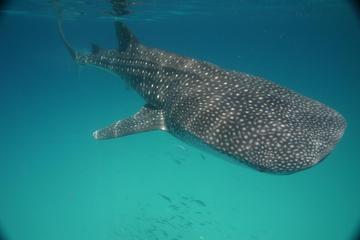 (5.0)
Duration: 6 hours
Departs: Cancun, Mexico
Price from USD 159.99
Book Now
Your chance of a lifetime to join the top-rated whale shark tour operator with a 12-year safety record with over 33,000 past participants. Fun for the whole family. Imagine safely snorkeling alongside the ocean's largest fish, the "whale shark". We operate small groups of maximum 10 people, operated by professional captains and guides. We include everything: Professional Transfers from your hotel/resort ,snorkel and safety gear,Welcome light breakfast gourmet sandwiches, water, soft drinks, shrimp ceviche, guacamole, snacks and beer, plus a certified diploma.
Your tour begins early in the morning with professional pickup by licensed and insured AC vans. You are notified the night before your swim date with the exact pickup time and name of transfer service. You are transported to our private marina departure station. You'll enjoy a light breakfast (fruit,sweets,coffee, juice) and then attend an important safety briefing and whale shark orientation meeting. You'll meet your captain and in-water guide and the adventure begins. On-board, you'll have full use and benefit of professional grade snorkel gear and life jacket (wetsuits are optional and you can bring your own or rent at the marina). You'll enjoy gourmet ham and cheese sandwiches (vegetarian option available), cold water and soft drinks.

Typically it takes about 1 hour to reach the whale shark feeding grounds. Once there, you will be allowed to swim 2 at a time with our guide. Each group of 2 gets at least three snorkel experiences with the whale sharks. While in the feeding areas many days we see manta rays, turtles and pods of free running dolphins (not in a tank). After the main event, we go to a nice reef area close to Isla Mujeres where there's more snorkeling and at which time your crew prepares the best shrimp ceviche on the planet with more snacks and a couple of beers for the adults. Then, you'll return to the marina, check out, perhaps snag a souvenir or two, & get your certified diplomas (Kids love these when going back to school). Then, your transfer van is ready to return you to your hotel/resort, returning there between 1pm-3pm, depending on location and traffic.
« All Activities
Activities by Group: