Whale Shark Encounter All-Inclusive Tour in Cancun
---
North America » Mexico » Quintana Roo » Cancun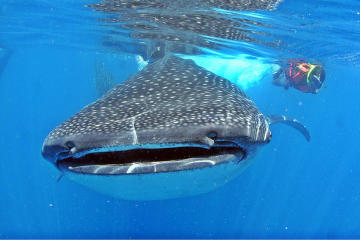 (4.5)
Duration: Flexible
Departs: Cancun, Mexico
Price from USD 183.00
Book Now
Enjoy a wonderful adventure in Cancun as you go whale shark watching and have a unique experience you will never forget. Every year from June to September 17, you have the chance to take this tour and to swim with these amazing animals. Your tour includes a professional guide, snacks and transport.
After hotel pickup, you will go on an unforgettable adventure as you swim with whale sharks as many times as you want. You will be accompanied by professional guides whose goal is for you to have a total satisfaction.

Your adventure will last for about 3 hours. During the tour, your professional guides will make sure you feel safe and you have the best view of the whale sharks. Even if you are not a experienced snorkeler or are not comfortable swimming, you will have fun as your guides will be there at all times as you swim with these gentle giants.

You will be on a high-quality boat with experienced captains and as you enjoy your ride, you may spot dolphins, turtles and manta rays on the way. If you are lucky and spot manta rays, you will be able to stop and snorkel with them and enjoy interacting with these beautiful animals in their natural habitat.

After the tour, you can purchase pictures and videos to remember your unique day. Your tour includes full snorkeling gear and you can rent a wetsuit for $15 USD, to be protected from the sun and to move easily through while you are swimming with the whale sharks.

Your tour is all-inclusive, so throughout the day you will enjoy breakfast at the pier and bottled water, soft drinks and sandwiches will be provided on the boat. Then, you will top-off your snorkeling experience with some beers and a Caribbean lunch in the beautiful waters of Isla Mujeres.
« All Activities
Activities by Group: