Xplor Adventure Park from Cancun
---
North America » Mexico » Quintana Roo » Cancun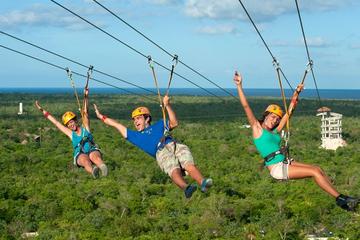 (5.0)
Duration: 12 hours
Departs: Cancun, Mexico
Price from USD 148.99
Book Now
Indulge your love for adventure at Xplor Adventure Park, located less than an hour from Cancun. Soar through the treetops on the highest ziplines in the Riviera Maya and drive an amphibious vehicle over all kinds of terrain. Swim in underground rivers, or paddle a raft through caverns adorned with stalagmites and stalactites. Then dig into an all-you-can eat buffet lunch offering delicious and healthy food. With round-trip hotel transport, entrance fees and lunch included, this all-inclusive tour is perfect for families.
After hotel pickup in Cancun, arrive about 45 minutes later at Xplor Adventure Park. You'll soon find there's no limit to the amount of fun you can have at Xplor.

Two separate ziplining courses provide equally thrilling experiences. Zip through the treetops on some of the highest ziplines in the Riviera Maya, and capture spectacular aerial views of the park. At one course, soar almost 150 feet (30 meters) high, and then plunge 26 feet (8 meters) underground, speeding through caves and grottoes. The other circuit ends with you splashing down into a deep natural sinkhole.

Take a drive through the lush jungle on an amphibious vehicle, and discover the hidden areas of the park. Explore the grottoes from your vehicle, drive over hanging bridges and learn about the local fauna. There are two separate circuits, each about 3 miles (5 km) long.



Or, climb aboard a raft and check out the subterranean world at your own pace. Using your hands as paddles, admire the grottoes and stalactites up-close as you travel through the caves. You'll also be able to jump off and go for a refreshing swim through the cave channels.

Dry off and freshen up in the park's dressing rooms or relax on one of its hammocks, and when it's time to eat, make your way to the restaurant and tuck into an international buffet lunch featuring fresh, healthy food.

After satisfying your adventurous spirit at Xplor, you'll be transported back to your Cancun hotel.
« All Activities
Activities by Group: